Extras
Tea/Coffee:
Each Flask Serves 10-12 people
Includes: Milk, Sugar, Sweetener's and disposable cups
Price: €20.00 per flask
Drinks and Juices:
​Still Water                              500ml                      €1.85
Sparkling Water                    500ml                     €1.85
Coke                                        500ml                      €1.95
Diet Coke                               500ml                      €1.95
Vit-Hit Boost                        500ml                     €2.80
Vit-Hit Detrox                     500ml                      €2.80
French Lemonade Pink     420ml                      €2.80
Alcohol and Wine on Request.
​
Nespresso Machine
​"Are you tired of looking at staff falling asleep during those important meetings…
Why not hire an Nespresso Machine to give your clients and staff that extra caffeine boost they need, gaining their full awareness."
Based on 10 people:
We provide Nespresso Machine, Selection of 20 different pods (ranging from strenght 4-10), Cups, Saucers, Teaspoons, Milk, Sugar, Sweeteners and Water.
Price: €55.00 per hire.
 "Providing the Ultimate Coffee Experience".
Something Special:
Hampers
Need a present, have no idea what to give someone whom has everything
Why not have a hamper of Goodies delivered to say "Thank You", or for that special occasion such as birthdays, christenings or even for Christmas as a present.
Our Hampers are made to order, so you can mix and match.
Prices start from €35.00 each up to €125.00, contact us for more information.
Cupcakes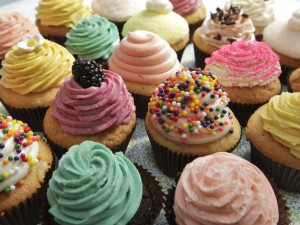 Why not order a box of cupcakes with your company logo displayed
for that product launch, or your company's birthday.
Having a 21st birthday or a wedding order cupcakes instead of the traditional cake.
Contact Mary on 086 8557016 to find out more details.