Breakfast Menu for Corporate Catering
Scone Platter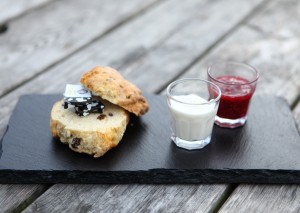 1 1/2 Scones per person
Homemade Jam, Fresh Cream and Butter
Price: €2.95 per person
Minimum order of 6
Regular Breakfast Platter
Selection of Scones, Muffins,Mini Danish, Croissants Choc au lait and Almond Croissants.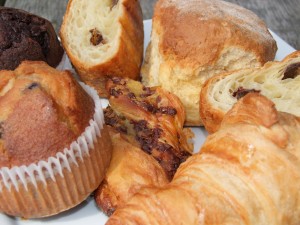 Price: €8.95per person
Minimum order of 6
Healthy Fruit Platter
Wedges of Water Melon, Honeydew Melon, Grapes, Kiwi, Pineapple and Strawberries.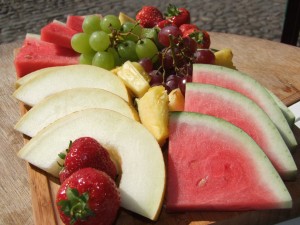 -Seasonal, May subject to change
Serves 5 – 6 people
Price: €21.00 per platter
Energy Booster Breakfast
Buffet Style, including: Bowls of Natural Yogurt, Granola, Muesli Fresh Fruit Salad and Apple/Orange Juice.
Price: €12.50 per person
Minimum order of 10 people Price:
Hot Options Platter
30 Small Sausage Rolls 16 1/2 Jambons
-Delivered hot Serves 15 people
Price: €27.50 per platter
Delux Buffet Breakfast
Buffet Style Breakfast Including:
Rashers, Sausages,Tomato,Mushrooms, Black and White Pudding, Potato Cakes, Fried Egg made to order and Homemade Brown Bread
Served with: Orange Juice, Smoothies and Tea/Coffee
Treat your Clients and Staff to an all inclusive Buffet Serviced Breakfast.Including: Staff and Crockery.
Minimum 20 people
Price: €530.00 for groups of 20 people
Why not check out our Extra's, so we can assist you and transform your organisation into the perfect venue for all occasions.