Everyday Recipe – Homemade Bread
Homemade Bread
Ingredients
Serves 24
2 envelopes dry yeast
2 teaspoons granulated sugar
2 cups lukewarm water
4 1/2 cups all-purpose flour
3 tablespoons butter, softened
1 envelope onion soup mix
1 teaspoon salt
2 tablespoons butter, melted
Dissolve yeast and granulated sugar in lukewarm water in a large bowl.

Add 3 cups flour, softened butter, onion soup mix and salt to yeast mixture. Beat with an electric mixer set at medium-high speed for 2 minutes. Add remaining flour and beat until blended. Let rise, covered, until almost double in size, about 30 minutes.

Generously butter two 71/2 × 4-inch loaf pans.

Stir down the dough. Spoon into prepared loaf pans. Let rise, covered, until dough reaches tops of pans, about 11/2 hours.

Preheat oven to 375ºF. Bake bread until browned, about 50 to 55 minutes. Invert onto wire racks. Brush bread with melted butter.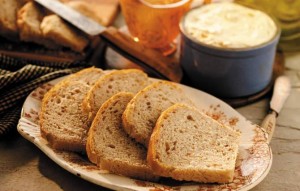 And there you have it, perfect homemade bread!